New Age
Sydney
Come & see our collection of over 80 new & Used Stock units at our new state of the art dealership & service Centre which is conveniently located on the Hume HWY.
With easy onsite parking, kids play area and our range of stunning luxury Caravans, your family can have a fun day out whilst looking for your next dream New Age Caravan and start planning your next big adventure with you loved ones.
Factory trained sales and service technicians with over 30 years combined experience will be able service and attend to your every need.
If you would like to get in touch with New Age Caravans Sydney, simply send us an email using the form below and we will get back to you shortly. Alternatively, you can visit us at our dealership in Lansvale.
The
Big Red

Range
The Big Red Range incorporates many new and exciting features. From the smooth and sleek exterior LED strip lighting through to the internal full en-suite (with shower and toilet), fully functional family style kitchen including large 2 door fridge, front loading washing machine. Travel Australia in luxury with various layout options including family bedding, club lounges, solar panels, external speakers and much more.
Explore the Range
The
Desert Rose

Range
The Desert Rose range is the ultimate explorers caravan. Wherever you choose to explore, the Desert Rose is a favourite among those embarking on longer, rougher trips. This comprehensive caravan boasts an extensive list of features that will ensure your adventure is a comfortable one. Explore the beauty of Australia with the Desert Rose, equipped with all the creature comforts you need for a satisfying journey off the beaten track.
Explore the Range
The
Gecko

Range
The Gecko is one of our most versatile ranges available. Bunk layouts, poptop layouts and bunk layouts are all available with the Gecko range. Featuring a foldout bed in all of the layouts to save space, the lightweight and compact design means you can still enjoy all the comforts on the road. The Gecko includes all the luxuries you would expect from a family sized caravan, with fully equipped kitchenette, spacious dining area and bunk layouts.
Explore the Range
The
Manta Ray

Range
The Manta Ray Caravan is ideal for families or those seeking a to travel Australia in style. New Age Caravans has spent years designing and perfecting the Manta Ray range of caravans to bring you the most spacious and comfortable travel experience. This modern range has been engineered to offer all the space you need. Suitable for families, couples and singles, the Manta Ray is available in sizes ranging from 16ft to 22ft. As a standard feature, each caravan comes furnished with an ensuite with shower and toilet, fully equipped kitchen, and spacious layout design.
Explore the Range
The
Oz Classic

Range
The award winning Oz Classic collection is one of the most luxurious caravans to travel Australia in. This roomy caravan ranges comes in 18ft, 20ft and 23ft layouts, allowing us to create a stunning and spacious interior. The Oz Classic range includes a fully equipped kitchen, comfortable dining experience, queen bedding with bedsides, large ensuite, TV unit & ample storage throughout.
Explore the Range
The
Road Owl

Range
Designed with quality, style and affordability in mind, the Road Owl is easy to call home no matter how far you go.
So head out there, start discovering our beautiful country and create some cherished memories.
Explore the Range
The
Xu

Range
The XU (Xtreme Utility) is a must have for all outdoor adventuring enthusiasts. This spacious design features enough beds to sleep six people, space to store your motorbikes, mountain bikes, jet skis or whatever else you need for your next adrenaline fuelled exploits. If it's outdoor adventure you're looking for, look no further than New Age Caravans innovative and stylish XU.

Explore the Range
The
Manta Ray Pop Top

Range
Packed with all the offerings of a full length caravan, the Manta Ray Pop Top sets new design benchmarks. It starts with an all-new roof design system.
Featuring a domed composite roof panel, unique aluminium bodytop and specially designed roof surrounds, the new system provides additional strength and promotes drainage to ensure optimum comfort and protection from the elements.
Explore the Range
The
Road Owl Pop Top

Range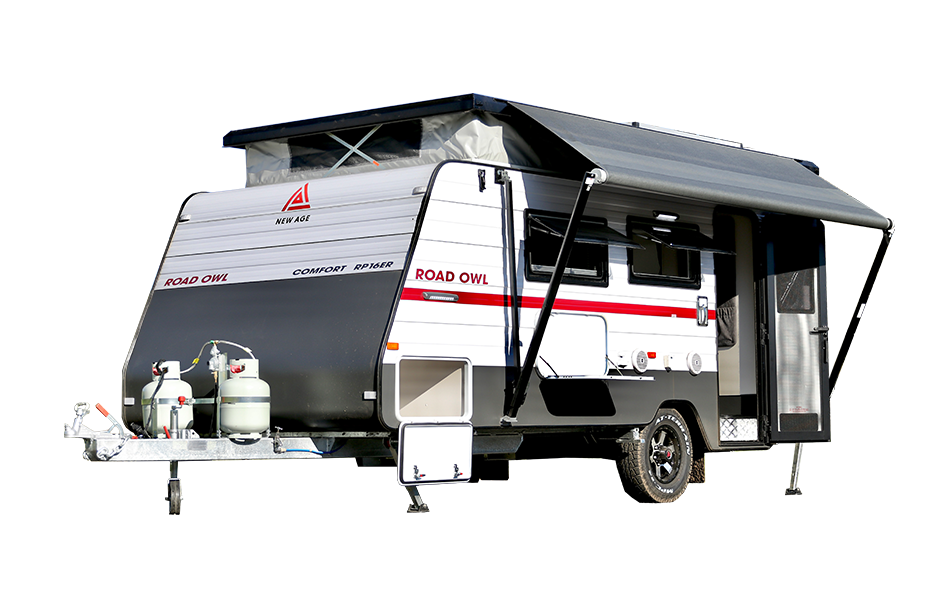 The new Road Owl pop top range is the ideal starting point for anyone wanting to travel in style at a very competitive price. Available in a couples or family layout, you'll be able to travel freely in a van that lets you expand the roof to sleep and close the roof when in transit. The Road Owl pop top range offers a choice of either a Comfort or Adventurer upgrade pack allowing you to be perfectly equipped for your intended travelling style.
Explore the Range
The
Gecko Pop Top

Range
Whether you're travelling as a couple or a family, our Gecko range's compact design has every layout to suit your needs including pop top models.
Explore the Range
The
MY21 Wayfinder

Range
Taking Australian camper design to a whole new level, every new MY21 Wayfinder model comes with a unique Electric Roof System (ERS) that completely eliminates the need for a manual winch. Simply tap on the touchscreen controller mounted in the front boot section of the camper, and your MY21 Wayfinder's ERS system will raise or lower the roof for you.
Explore the Range
New Age
Caravan Configurator
Pick the perfect caravan for you.
Service & Repair
We have made a large investment in our service department including staff technical training so all of our valued clients have peace of mind that their caravan is in the best possible hands.
No matter what brand of caravan you own, we can do your full log book service and any other servicing requirements including repairs and maintenance, wheel and brake checks, appliance testing and tuning, suspension inspection and expert caravan advice.
"We are the accredited manufacturer repairer for New South Wales and deal with all insurance companies including; CIL, NRMA, Suncorp, GIO, Allianz, AAMI, for New Age Caravans."
Find Out More
Testimonials
Amazing level of care and service was shown by the team at New Age Sydney. Chad went above and beyond to make and keep us happy. Thoroughly recommend dealing with this company.
Jay
August 2019
Such an amazing experience when purchasing our first caravan. Liam and the team were so helpful and patient and they found the perfect caravan to suit our needs. Thanks so much guys 10/10
Alyce Altsitsoglou
June 2019
Great service, Messi goes far and beyond to get the job done.very very happy with the work carried out by Messi. 10/10 thanks heaps.
Hani Shmeissem
Sept 2018
See More Testimonials